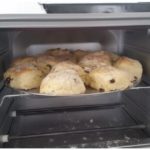 Due to the number of Scones eaten at the TAC Scone bake off, it's time to plan another bake off!
This time not limited to Scones it is open to any item that can be baked in the Lodge's oven.
To be in to win, have a lot to eat and have fun be at Tahurangi Lodge on
Saturday 25 March
The great TAC Bake Off.
Scones, Pizzas and Muffins are all welcome and will be judged and consumed.
Trophy for the best and not so good baking.
Judging will be at 4.00 pm by all, judgers need not be bakers, so come along and enjoy.
Plan to stay overnight at the lodge to make a full weekend of it.
Fine print:
All baking must be undertaken at the lodge.
Maximum cook time is 20 minutes so keep mixture small.
Each bake will be rated from 1 to 5, 5 being the best score, Scores added up to be winner.
Judges decision will be final.
All baking is to be consumed at the lodge.
Contact: Greg Banks for any questions. 06 7582643, banks3@xtra.co.nz